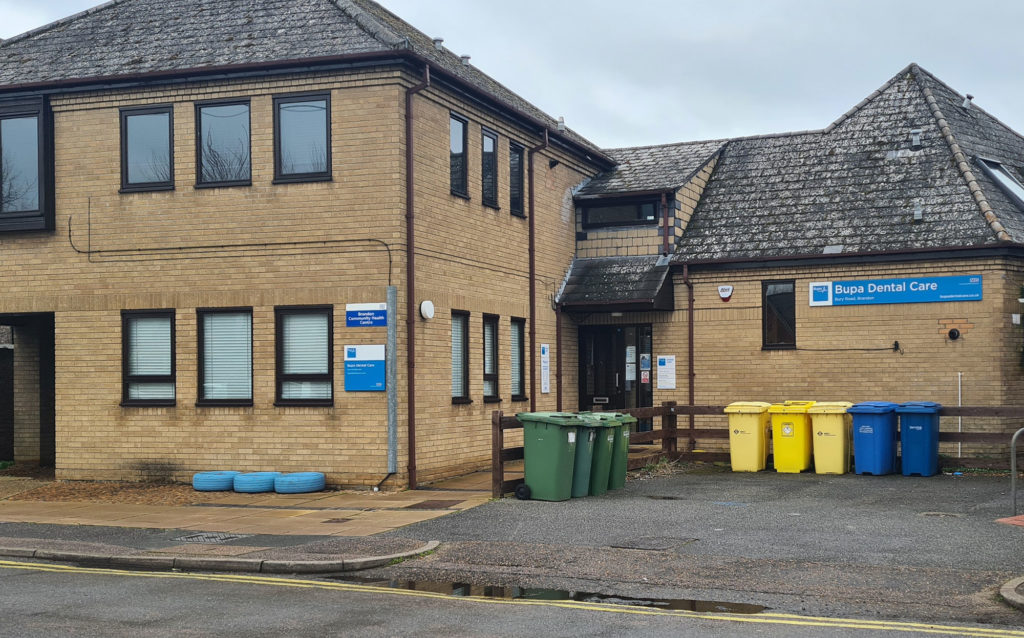 Bupa Dental Care has announced it will be closing its dental practice in Brandon after struggling to recruit dentists to deliver NHS care.
A list of 85 practices across the country that will be closed, or are under review to be sold or merged with other practices, was released today.
Bupa, which provides NHS and private dental care, said the practices will be closed, sold or merged later this year, bringing the total number of practices in the UK down to 365.
All the practices will remain open as usual in the meantime. The move will affect 1,200 employed and self-employed staff, representing more than a tenth of its 9,000-strong workforce.
Bupa said it would redeploy affected staff where possible to different areas of the business. The provider has not been able to recruit enough dentists to deliver NHS care in many practices for months and in some cases years, it said.
National shortages of dentists have been worsened by the NHS contract model, and because of an increased demand and complexity of care since the Covid pandemic, Bupa warned.
The industry has also been affected by inflation and higher energy prices, increasing the cost to run patient services.
Mark Allan, general manager for Bupa Dental Care, said: "As a leading dental provider in the UK, our priority must be to enable patients to receive the care they need. For the majority of affected practices, this decision will allow commissioners to procure local providers for the NHS contract, tailoring services and investment to the needs of the local community, thereby providing a better opportunity for patients to continue access to NHS dental services."
Bupa said it would be handing back the dental contract to the NHS for practices that are set to close, meaning commissioners can find a new provider to continue treating patients in the area.
Mr Allan went continued: "We fully understand the impact today's decision has on our patients and our people within these practices. This decision has not been taken lightly and closure is a last resort.
"Despite our continued efforts, the dental industry is facing a number of significant and systemic challenges that are placing additional pressure on providing patient care, in particular recruiting dentists to deliver NHS dental care."
Practices earmarked for closure:
Bupa Dental Care Pontefract
Bupa Dental Care Rochdale
Bupa Dental Care York
Bupa Dental Care Bolsover
Bupa Dental Care Shildon
Bupa Dental Care Sunderland
Bupa Dental Care Harleston
Bupa Dental Care Gloucester
Bupa Dental Care Ripon
Bupa Dental Care Cleveleys
Bupa Dental Care Skegness
Bupa Dental Care Oakley Vale
Bupa Dental Care Waterlooville
Bupa Dental Care Barrow in Furness
Bupa Dental Care Bishop Auckland – Market Place
Bupa Dental Care Brandon
Bupa Dental Care Eye
Bupa Dental Care Stockton
Bupa Dental Care Sturry
Bupa Dental Care Bristol – St Pauls
Bupa Dental Care Wolverhampton
Bupa Dental Care Poole
Bupa Dental Care Folkestone
Bupa Dental Care Tewkesbury
Connaught Village Dentistry
Bupa Dental Care Leckhampton
Bupa Dental Care Thames Ditton
Manchester Cheadle Dental and Implant Clinic
White Dental
Bupa Dental Care Manchester Square
Total Orthodontics Wokingham
Total Orthodontics Marlow
Total Orthodontics Camberley
Bupa Dental Care Blackpool Station Road
Bupa Dental Care Leslie
Total Orthodontics Downpatrick
Bupa Dental Care Omagh Campsie Road
Practices under review:
Bupa Dental Care Addlestone
Bupa Dental Care Ashton-in-Makerfield
Bupa Dental Care Boston
Bupa Dental Care Brampton
Bupa Dental Care Burton on Trent
Bupa Dental Care Cove Bay
Bupa Dental Care Crewkerne
Bupa Dental Care Denbigh
Bupa Dental Care Egremont
Bupa Dental Care Erdington
Bupa Dental Care Evington
Bupa Dental Care Hereford
Bupa Dental Care Hucknall
Bupa Dental Care Kendal
Bupa Dental Care Keswick
Bupa Dental Care Kingseat
Bupa Dental Care Liskeard
Bupa Dental Care Lydney
Bupa Dental Care Marden
Bupa Dental Care Maryport
Bupa Dental Care Netherfield
Bupa Dental Care Newport Shropshire
Bupa Dental Care North Lakeland
Bupa Dental Care North Walsham
Bupa Dental Care Penge
Bupa Dental Care Penrhyn
Bupa Dental Care Plymouth
Bupa Dental Care Preston
Bupa Dental Care Redditch
Bupa Dental Care Rhyl
Bupa Dental Care Rise Park
Bupa Dental Care Rustington
Bupa Dental Care Ryde
Bupa Dental Care Seaford
Bupa Dental Care Sleaford
Bupa Dental Care Stroud
Bupa Dental Care Sutton-in-Ashfield
Bupa Dental Care Wellingborough
Bupa Dental Care Woolston
Bupa Dental Care Worcester City
Metamorphosis Orthodontics
Total Orthodontics Colwyn Bay