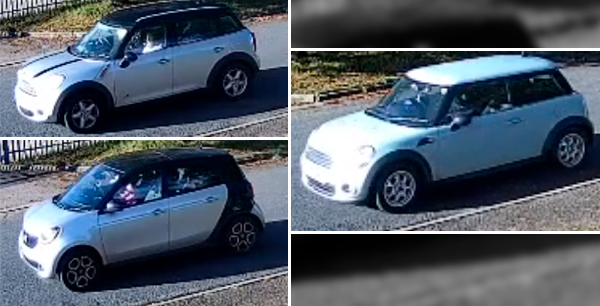 Police are appealing for witnesses or information after a report of a kidnap and assault of a man in Brandon last month.
Officers are also looking to identify vehicle owners who they believe may be able to assist with their enquiries.
The alleged incident took place between 10am and 11am on Sunday 22nd October.
A man attended an address in London Road to meet with another man. He then got into a car with the man who then drove round the corner, where two other males, one wearing dark clothing and the other wearing a lighter-coloured top, got into the vehicle. He was then driven to an industrial estate where it is reported he was threatened and assaulted.
Police are appealing for help to identify the individuals connected with the incident.
Officers would also like to identify the owners of three vehicles that were seen in Norwood Road, Richmond Road and Wimbledon Avenue. It is believed the owners/drivers of these vehicles may be able to help officers with their enquiries. CCTV images of the vehicles in question have been included.
A 38-year-old man and a 35-year-old woman were arrested on suspicion of kidnapping and possession of a Class B drug, while a 62-year-old-man was arrested on suspicion of kidnaping.
The 38-year-old man was bailed until 27 November, while the 35-year-old woman was bailed to return to police on 24 January.
Shahid Mhamood, 62, of Arlington Way, Thetford, was subsequently charged with kidnapping, blackmail and possession of an offensive weapon. He appeared before Ipswich Magistrates' Court on 26 October and was subsequently remanded by the court to appear at Ipswich Crown Court on 23 November.
Witnesses or anyone with any information, or who saw anything suspicious at the time is asked to contact West Suffolk CID, quoting crime reference 37/62055/23, via:
Email – Dean.drummond@suffolk.police.uk
Website – http://www.suffolk.police.uk/contact-us/existing-report-update
Phone – Call 101
Crimestoppers – Contact the independent charity Crimestoppers 100% anonymously on 0800 555 111, or via their online form: www.crimestoppers-uk.org